RAMSNEWS- May, 8, 2023
Tina Cortis

Congratulations to our April Student of the Month Recipients!
Big Congrats to our April Student of the Month Recipients!
Each month at Robert Adams Middle School, we will be choosing one student per team in each grade, including World Language & Unified ARTS who have proven to represent our RAMS CARE values. For April, we would like to recognize the following students:
Grade 6: Amanda Oliveira, Teagan Kane, Brody Davis,
Grade 7: Luca Harrington, Emmet Flippin, Abby Barry
Grade 8: Sidney Pollard, Sarah Eppinger, Julia Furey
Unified Arts: Emerson Harrington, Mia Faletra, KJ Nolan
World Languages: Micaelly Silva, Jasleen Kamaljeet, Melissa Chiang
Great work, we are so proud of you!
Awesome Work to the Crew & Cast of Aladdin!
What an incredible show! Our students worked incredibly hard for months after school in preparation for this event. Huge thank you to Beth Hecker, the play director and Sara Peters for coordinating such a professional production for the RAMS community. The pride our students felt in working together to be part of Aladdin was fantastic!
RAMS DANCE! Dancing in the Dark-Another great night at RAMS!
Another great night recently here at RAMS! Our Dancing in the Dark event was verrrry well attended by our students. We are so proud of our student leaders who have been working hard behind the scenes for weeks now in planning this. Thank you to all of our parents who took time to volunteer and help support RAMS-we certainly appreciate that support of our students!
Proceeds from the ticket and concession sales will be donated to the Make-a-Wish Foundation.
Teacher Appreciation Week
Teacher Appreciation Week is May 8-12!
Please join us by taking time to send in a personal thank you to your teachers!
PTO Updates
Teacher Appreciation Week - May 8-12
We are so fortunate to have a team of amazing educators who teach, support, and inspire our students! The PTO has plans to show our appreciation for all that our teachers do this week:
Monday: Breakfast snacks

Wednesday: Catered lunch

Friday: Coffee Cart
We encourage families to thank your teachers or do something nice for their classroom this week as well!
8th Grade - Save the Dates!
May 12: Field Trip to Romeo and Juliet

May 26: 8th Grade Community Service Day. Each year the 8th grade devotes a day to community service that includes weeding/mulching the Woodland St, helping at the Senior Center, cleaning the fields at Holliston High School, and helping out in the elementary classrooms. This is a great bonding experience for the students. Students are asked to bring a rake and gloves and $5 to cover buses etc. For those who can, we'd love to have donations of gardening gloves, rakes, wheelbarrows, and leaf bags as we seem to never have enough. Donations can be brought/sent to RAMS!

June 16: 8th Grade End of Year Celebration - held at RAMS. Casual attire (shorts/tees/sundresses/comfy shoes) for dancing, backyard games, and yummy treats!

More info and signups to follow in the coming weeks!
MS PTO Meeting
Our next MS PTO meeting will be Tuesday, May 9 at 9:00 am at RAMS. We look forward to having you there. Please check in at the office and they will direct you to where we are meeting
Join the MS PTO!
It's easy – visit www.HollistonPTO.org to join! Just $25 to support your child, their teachers and many school programs.
HEF Presents - Parents' Night Out - May 20
We are holding our big fundraiser banquet and auction this month – "Parent's Night Out" at Anthony's on the Green on Saturday May 20th at 6pm. Dinner, music, dancing and auction/raffle will be on the menu. Calling all parents and teachers, neighbors and friends!
Please see the attached flyer for more details!
Junior Police Academy
The link below will take you to our department website, which then takes you to the Google Sheet for our camp sign up. The first week is July 10-14 and our second week is August 7-11. Once the form is completed, parents can drop them off at the station. If parents have any questions they can reach a dispatcher at 508-429-1212 or email:

Officer Ciavara - ciavarrah@holliston.k12.ma.us
Officer Woods - woods@hollistonpolice.com
There are also sign up sheets available in the station lobby if people would prefer to fill it out there instead of printing it out at their homes.
https://sites.google.com/hollistonpolice.com/hpd/police-community-initiatives/junior-police-academy
RAMS Field Day
As the year comes to a close, we look forward to celebrating with our annual field trips on Tuesday, June 20. Field trip forms and payment details have been (or will be soon) shared with families!
Grade 6: Field Day at Stoddard Park, Holliston
Grade 7: Kimball Farms, Westford
Grade 8: LAUNCH, Norwood
MCAS 2023
Only Grade 8 students will taking their Science, Technology, Engineering MCAS this week. Students will be taking part in the MCAS Tuesday, May 9 and Thursday, May 11
Yearbook Ordering
Hi RAMS families. Just a quick reminder to get your child's yearbook order in today. For $24, you'll receive a hardback yearbook of great memories from the year. Orders must be in by the end of April. Please use this link to order.
Any questions? Please email Mrs. Schmid (schmidl@holliston.k12.ma.us) or Ms. Ditto (dittokustwana@holliston.k12.ma.us).
Interested in playing Girl's HS Soccer in the Fall?
Interested in playing Girl's HS Soccer in the Fall? Please fill out this form to receive an invite to our informational meeting!
6th Grade Trip to Hale Reservation
Attention 6th grade families:
6th grade students will be taking part in a fun, team-building event scheduled for later this year in June. Please see the attached flyer for more details!
Student Placement
Should you have questions regarding your child's placement, we ask that you reach out to your student's subject specific teacher to work through your questions.
The following grade levels and courses receive placement:
Grade 6 to 7: NO leveling to be recommended
Grade 7 to 8: Math and Science Only
REMINDER: Cell Phone Use
We wanted to give families notice that following the break we are going to be following our cell phone policy per the handbook with all students. Student's cell phones should be kept in their lockers during the school day. If a student has their phone during the school day, it will be confiscated and a parent/guardian will need to pick it up. It is incredibly important that students are focused and not accessing their phones during the day.
Should you need to get a hold of your child during the day, please contact our main office and we can get them your message. We appreciate your support and conversation reminders with your student's about this.
Supplies Needed for Innovation Lab
We would greatly appreciate any student who could bring in the following materials to help supply the innovation lab:
Egg Cartons
Q-Tips
Modge Podge
Magnet strip with self adhesive
White Glue
Hammers- can be used
Chalk Paint- Used is fine
Regular craft paint- Used is fine
Yarn- used rolls are fine
12 inch skewers
WANTED - Paraprofessionals
Robert Adams Middle School is seeking paraprofessionals to be part of our school community! If you are interested or know someone who might be, please contact David Jordan (jordand@holliston.k12.ma.us) or Jesse Conant (conantj@holliston.k12.ma.us). In our school, paraprofessionals will work with children individually or in small groups, providing instruction on reading, writing, math, and other education related activities.
WANTED - Bus Monitors
RAMS is seeking bus monitors to help assist our student needs regarding the transportation of students to and from RAMS. Please reach out to David Jordan (jordand@holliston.k12.ma.us) or Jesse Conant (conantj@holliston.k12.ma.us) if interested.
A Window Into RAMS
We would like to share a handful of recent photos which we hope to help provide a nice window into RAMS!
Make a Wish
Students at RAMS worked the Make a Wish Foundation candy station at the dance-we sold out of everything! Proceeds will be donated to the Make a Wish Foundation.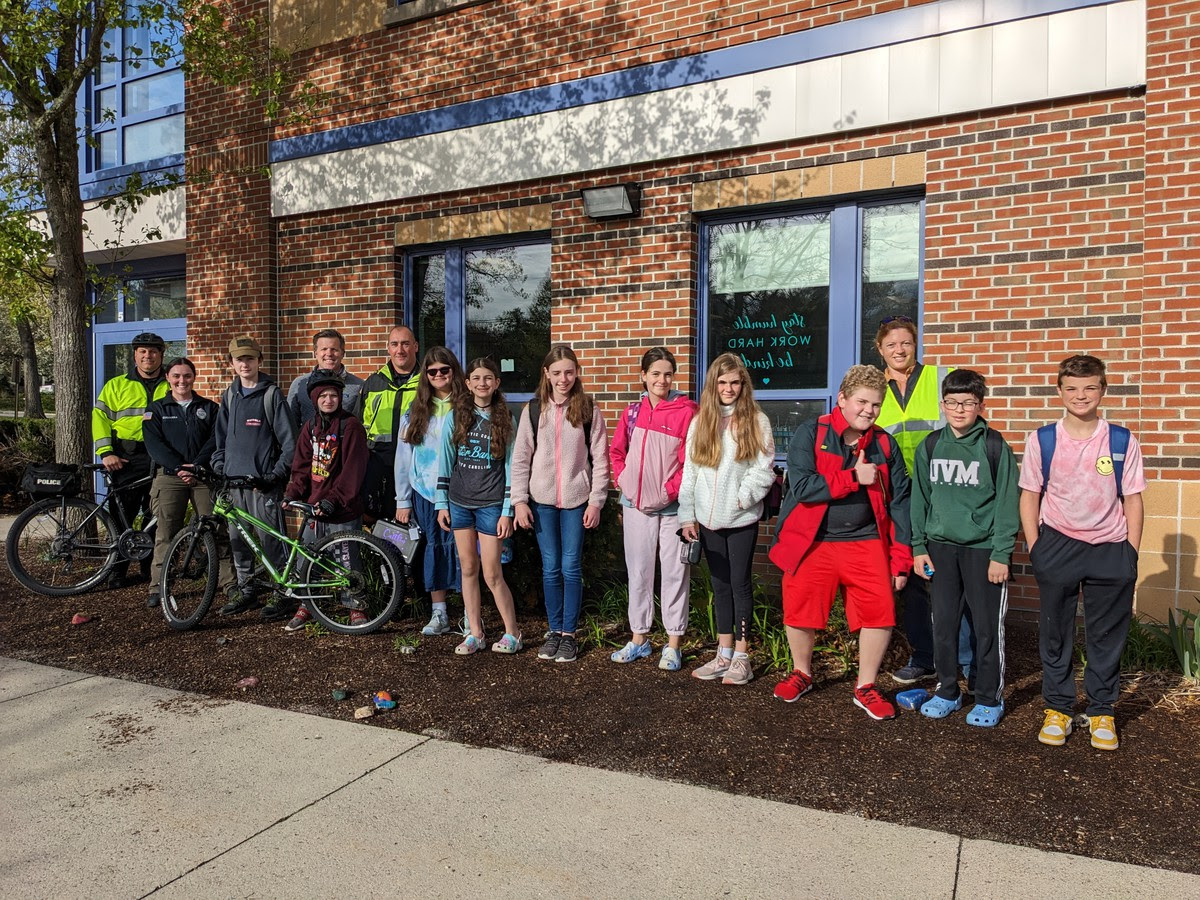 Walk, Bike, Roll to School Event
Students and HPD outside of RAMS this past Wednesday morning as past of the SRTS Walk, Bike, Roll to School event.
Dr Jordan!
Huge congrats to DR Jordan, who just recently completed his doctoral work. Great job!
RAMS Calendar
May
8-12 - Teacher Appreciation Week!
9, 11 - Science/Technology/Engineering MCAS (Grade 8 ONLY)
12 - 8th Grade Field Trip - Shakespeare Play
26 - 8th Grade Community Service Day
29 - NO SCHOOL - Memorial Day
June
2 - HHS Graduate walkthrough of RAMS
7 - Grade 5 Step Up to RAMS
12, 13, 14 - 6th Grade Day Trip to Hale Reservation
16 - Grade 8 Celebration & Dance
19 - NO SCHOOL - Juneteenth
20 - RAMS Field Day
21 - LAST DAY OF SCHOOL - Half Day, dismissal at 11:00AM
RAMS Quote of the Day
The great aim of education is not knowledge but action. —Herbert Spencer